Introduction
During the late 1800s, tummy tuck procedures emerged to treat wounds, marking the beginning of a long journey for this particular surgical intervention. However, even today, one common question persists: Is a tummy tuck safe?
It's common for individuals to have concerns about the safety of tummy tuck specifically, given its nature as an elective cosmetic procedure.
Here, we explore what a tummy tuck is and see whether it is safe.
What is Tummy Tuck?
A tummy tuck is a surgical process that involves the elimination of excess fat and skin, as well as the tightening of abdominal muscles.
It is also known as abdominoplasty. It is a cosmetic surgical procedure usually performed to improve the shape and look of the abdomen.
Tummy Tuck Procedure
The tummy tuck procedure is mainly performed under general anesthesia. It may take several hours to complete the process. The surgery involves tightening the connective tissue supporting abdominal muscles, restoring their strength and structure.
Is Tummy Tuck (Abdominoplasty) Safe?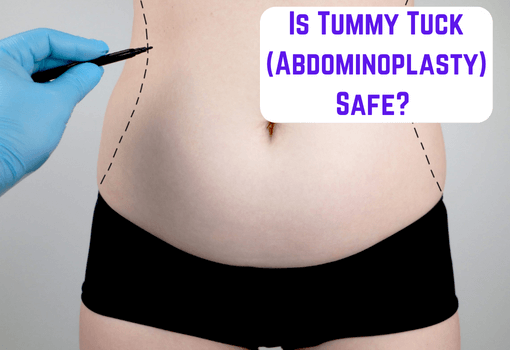 A tummy tuck is a safe and effective surgical procedure. However, some risks are associated with this procedure, like any surgery. Ensure you discuss every risk in detail with your surgery before undergoing the procedure.
Some of the most common risks are:
long recovery time
Bleeding
infection
slow wound healing
heart and lung complications
prolonged swelling
skin discolouration
negative reaction to anesthesia
pain
skin or fat necrosis (death of tissue)
Scarring
deep vein thrombosis
skin loss
Are You an Ideal Candidate for Tummy Tuck?
An individual with relatively good physical shape but cannot lose abdominal skin significantly despite exercise and dieting is an ideal candidate for tummy tuck surgery.
The goal is to achieve a better contour by tightening and reinforcing the abdominal muscles and removing excess skin.
No patient undergoes this surgery every day. Therefore, it is recommended to consult your surgeon to discuss your overall health, goals and available treatment options.
Here are some other factors that make you a perfect candidate to undergo a tummy tuck procedure:
Loose skin around the abdomen: To be a suitable tummy tuck candidate, loose or excess skin around the waist is crucial. Liposuction might be better if you aim solely to eliminate extra fat.
Good health: A healthy heart and lungs are necessary, as general anesthesia will be used. Additionally, it's crucial to be free from connective tissue and autoimmune disorders to ensure a smooth and comfortable recovery.
Obesity/Pregnancy: Having had a baby or being obese makes you an ideal candidate for a tummy tuck. Often obesity or pregnancy causes loose skin, which can also damage your stomach muscles. This leads to a sagging lower abdomen that cannot be fixed with diet or exercise.
Realistic expectations about the results: Abdominoplasty improves specific conditions and self-confidence and removes excess abdominal fat, but it's not for weight loss. Maintaining a stable weight of 10 to 30 pounds is vital for long-lasting results. Weight gain can stretch the skin again, while subsequent weight loss may cause sagging or excess skin.
Conclusion
In conclusion, the tummy tuck procedure offers a safe and effective solution for enhancing the appearance and contour of the abdomen, with minimal associated risks as with any surgery.
If you seek reliable guidance for loose skin surgery in India, Essence Aesthetic is your ideal destination.
FAQs
1. What is tummy tuck surgery cost in India?
The tummy tuck surgery cost in India ranges between INR 1,50,000 and 3,50,000.
2. Can a tummy tuck impact the uterus?
Getting a tummy tuck doesn't hinder the ability to conceive, as it does not affect the uterus. But if you get pregnant afterwards, it might undo the tummy tuck results.